Yoga
Relax & Rejuvanate
While El Silencio Lodge & Spa is only 60 minutes from San Jose via the new road through Sarchi, our setting high in the Costa Rica cloud forest offers a tranquil and secluded destination for wellness-focused guests. Located by a creek and shrouded by Costa Rica's dense tropical forest, our spacious al-fresco Yoga Deck prompts full communion with nature. Fragrant earth, billowing wind, fluttering candles and streaming water fully engage the senses and enliven the spirit.

Private yoga classes are available but must be pre-scheduled with the reservations department. Yoga instructors are encouraged to organize their own groups, and yoga enthusiasts can ask us to create a fully customized getaway for their group.
Our yoga offerings have something for every age and skill level…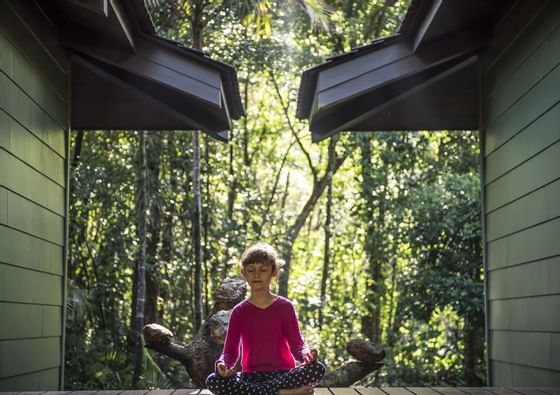 Meditation
El Silencio Lodge & Spa's unique and hidden location is the perfect setting for reflection and rumination. Our guests will be able to capitalize on our meditation services with Costa Rica's beautiful cloud forest offering a tranquil backdrop. The convergence of natural beauty and peaceful solitude allows for an unforgettable meditative experience.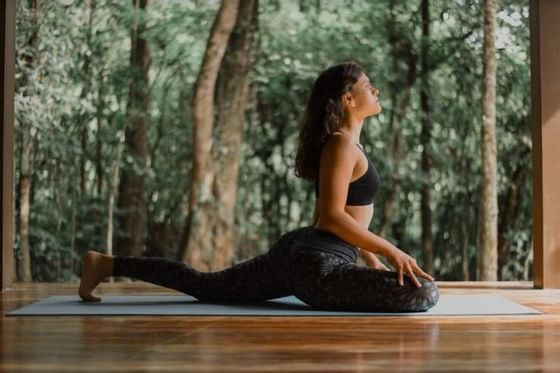 Yoga
Our Forest Bathing Deck is the perfect sanctuary for channeling nature's uplifting energy! This spacious deck is immersed in the cloud forest mantle. It features a high ceiling and with near 360-degree views of greenery. Our deck combines the mindful yoga practice with breathtaking views for a one of a kind experience - yoga in the right setting.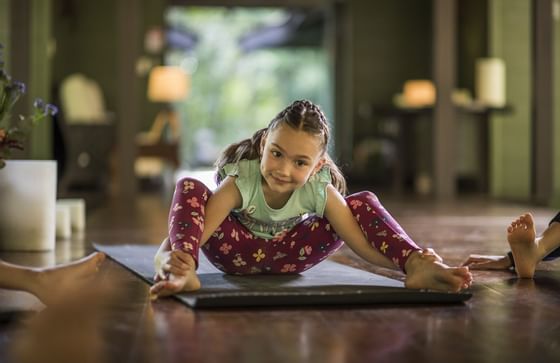 Kids Yoga
At El Silencio Lodge & Spa, we have included yoga for children, which is a form of modern yoga designed for children. With our instructor, we create an interactive adventure that builds up strength, balance, and confidence. Classes are intended to be fun and may include age-appropriate games, animal sounds and creative names for poses. We encourage our little visitors to experience Costa Rican wellbeing in a fun and dynamic activity surrounded by the beautiful naturaleza!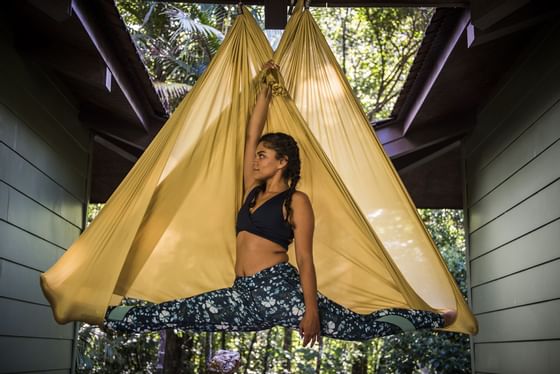 Aerial Yoga
Aerial Yoga will take your workout to the next level and our Forest Bathing Deck is the perfect sanctuary for channeling nature's uplifting energy. What are you waiting for? Hop into a silky sling-like hammock, which is draped from the ceiling and supports your full body weight while you take in the breathtaking 360-degree views of greenery.
Complimentary Classes
Complimentary wellness classes are held everyday at 9:00am. Inquire for our weekly schedule!